top 7 Propane Uses to power your home
Explore the versatility of propane as a powerful and efficient fuel for your home. From heating to cooking, discover the top propane uses that can enhance your comfort and convenience. Experience the benefits of propane with Superior Propane.


Propane Efficiency and Benefits
Propane is a versatile and efficient fuel that offers a wide range of benefits for homeowners. Its diverse applications go beyond heating to include cooking, water heating, outdoor grilling, and more, making it an ideal choice for all your home energy needs. Propane is known for its high energy efficiency, which means you get more value for your money compared to other fuels. It also burns cleaner than other fuels, reducing greenhouse gas emissions and improving air quality. With propane, you can enjoy a comfortable, convenient, and environmentally-friendly home.
Now, let's dive deeper into the top propane uses in your home. From keeping your house warm to enjoying a backyard barbecue in the summer, propane is a versatile fuel for a wide range of applications to suit your lifestyle while you benefit from increased efficiency, comfort and sustainability.
Residential Propane Uses
1. Propane Home Heating:
Propane heating systems, including boilers and furnaces, are a smart and cost-effective choice for homeowners seeking reliable and efficient heating solutions. High-efficiency propane boilers offer several advantages, including energy efficiency, compact size, and versatility in providing both heating and hot water. They are ideal for smaller homes or homes with limited space and are a cleaner-burning alternative to oil, reducing greenhouse gas emissions and improving air quality. On the other hand, propane furnaces are known for their high efficiency, helping to reduce energy bills and environmental impact. They also require less maintenance compared to some other heating systems, saving time and money in the long run. Whether you choose a propane boiler or furnace, you can enjoy warmth and comfort while benefiting from lower fuel costs, reduced maintenance, and a more environmentally-friendly heating option.
2. Propane Fireplace:
Unlike traditional wood-burning fireplaces, propane fireplaces are easy to use, require minimal maintenance, and produce no ash or soot. They are also more energy-efficient, providing more heat with less fuel. With a propane fireplace or outdoor fire table, you can enjoy the ambiance of a fire without the hassle of chopping wood or cleaning up ashes.

3. Propane Generator:
Propane standby generators are a dependable solution for power outages. Unlike gasoline, oil or diesel, propane won't degrade over time, ensuring that your generator will start when you need it most. Propane generators are also more environmentally-friendly, producing fewer emissions than other fuels. They are also quieter and require less maintenance. With a propane generator, you can have peace of mind knowing that you'll have a reliable power backup during storms, blackouts, or other emergencies.
4. Propane Water Heaters:
Propane water heaters are a cost-effective and efficient way to heat water for your home. They heat water faster than electric water heaters and are more energy-efficient, saving you money on your energy bills. Propane water heaters also have a longer lifespan and require less maintenance than electric water heaters. Tankless propane water heaters provide the added benefit of heating water on demand, so you never run out of hot water.
5. Propane Pool Heating:
Propane pool heaters are a great way to extend the swimming season and enjoy the pool for longer. They warm pools faster and at lower energy costs compared to electric models. Propane heaters can heat pools in hours, not days, and can save up to 30% compared to electricity. So, whether you're hosting a pool party or taking a relaxing dip in the spa, you can trust propane heaters to keep your pool and spa at the ideal temperature.
6. Propane Grills:
Propane-powered grills offer instant on-off control and consistent results, making them a favorite among grill enthusiasts. They are completely portable, allowing you to grill whenever and wherever you want. Propane grills also heat up faster and provide more even heat distribution than charcoal grills. Whether you're hosting a backyard barbecue or enjoying a family cookout, propane grills provide the perfect grilling experience.

7. Propane Outdoor Heating:
Propane-powered patio heaters and outdoor space heaters are an excellent choice for keeping your outdoor spaces warm and comfortable. These heaters are more energy-efficient and produce fewer emissions than electric heaters, making them an environmentally-friendly option for outdoors. Propane heaters are also portable, allowing you to easily move them to different areas of your outdoor space as needed. Whether you're hosting a backyard barbecue, enjoying an outdoor dinner with family, or simply relaxing on your patio, propane heaters provide a convenient and efficient way to extend your outdoor living season and make the most of your outdoor spaces.
Enjoy the Benefits of Propane with Superior's Hassle-Free Delivery
At Superior Propane, we make it easy for you to enjoy all the benefits of propane without the hassle of managing your propane refills. With our Auto Delivery plan, you can experience uninterrupted home energy without constantly monitoring your propane tank levels. We automatically start working on your delivery schedule when your tank reaches an ideal level, ensuring you always have the propane you need. If you have a SMART* Tank™ sensor installed on your propane tank, you can easily monitor your tank levels and propane deliveries via mySUPERIOR™.
Our Auto Delivery plan also offers a No-Run-Out-Guarantee† for home heat customers with a SMART Tank sensor. The SMART Tank sensor sends real-time data to Superior Propane, allowing us to monitor your propane levels and schedule deliveries more efficiently. With Superior Propane, you can enjoy all the advantages of propane as a versatile and efficient fuel, while we take care of your propane delivery needs. Read more.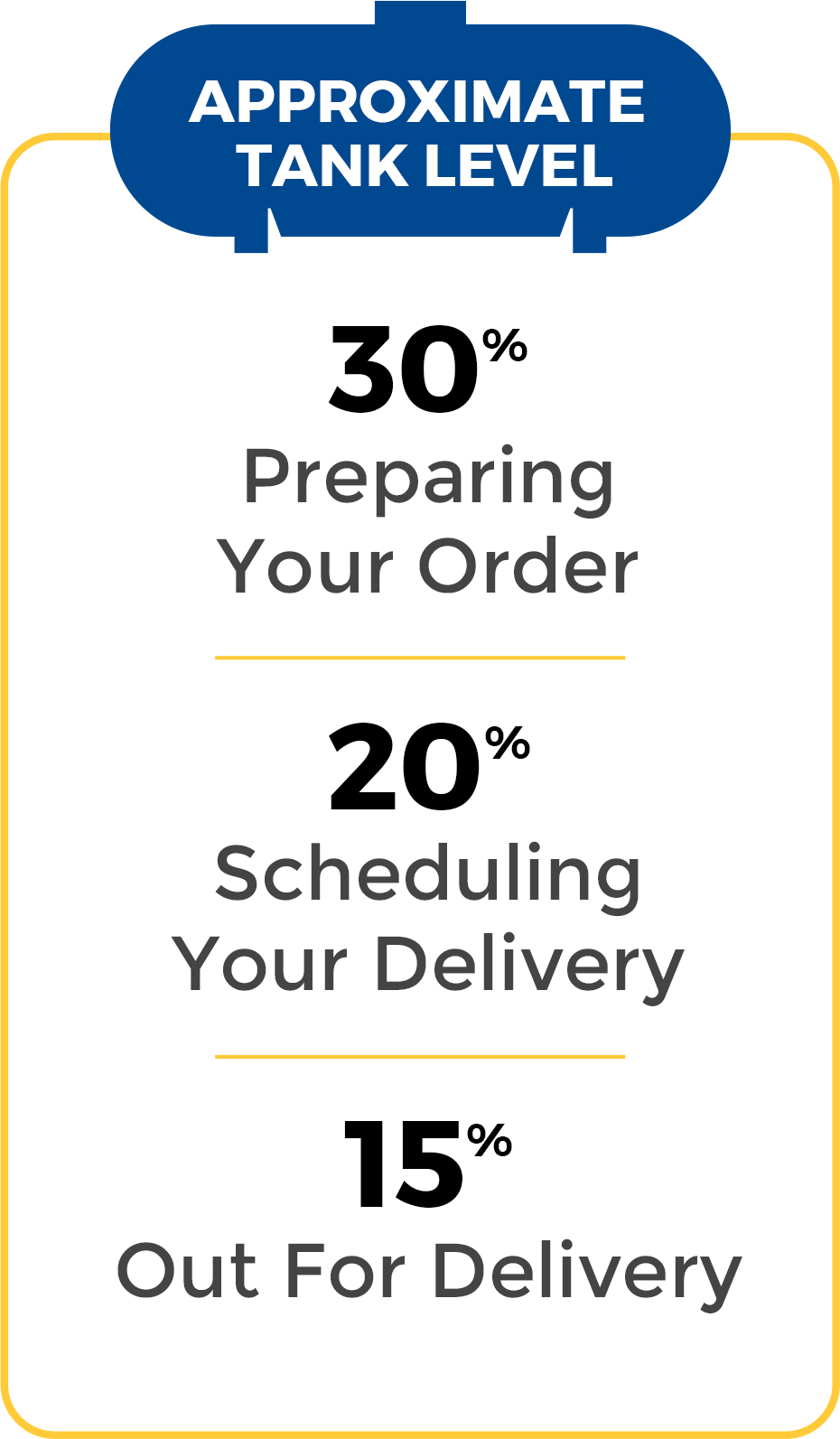 This timeline may vary slightly as we work behind the scenes to procure your propane from our suppliers, unload it from our supply point, transport it to our storage facility, and then transfer it onto the truck before it makes its way to you.
DID YOU KNOW?
Propane tanks are typically filled to a maximum of 70-80% to leave room for gas expansion.
Superior Energy Source, Superior Service
Superior Propane offers a range of convenient services to enhance your propane experience. With mySUPERIOR, you can easily manage your propane account online, view your estimated delivery date, monitor your tank levels, and pay your bills. The SMART Tank sensor allows Superior Propane to monitor your propane levels and set up optimal delivery dates, ensuring a continuous supply of propane. In addition to these services, Superior Propane also offers a Fixed Price Plan and Equal Payment Plan for greater control over your budget. Superior Propane's extensive supply network and storage capacity ensure a reliable and uninterrupted supply of propane, even during peak demand periods. Experience the convenience and reliability of Superior Propane's services, backed by our commitment to providing an unparalleled level of customer support.
Contact Us to Make the Switch
Switching to Superior Propane is easier than you think. Contact us today and we'll help you switch.
Complete the form and we will contact you shortly with the help or information you need.
OR
Call Us Now at
1-855-540-7295
No-Run-Out Program Terms and Conditions:

†All Superior Propane's SMART Tank bulk delivery residential customers enrolled in Superior Propane's automatic delivery program are eligible for The No-Run-Out Guarantee Program (the "Program") except for Customers (i) who rent only a single 420 lb. Cylinder or 123 USWG tank; (ii) with premises on water access or seasonal road access; and (iii) with tanks or cylinders that are attached to standby generators. If (i) the customer replaces Superior Propane's SMART Tank(s) with other equipment; (ii) the customer fails to pay for propane within the agreed upon payment period and the customer's account is no longer in good standing; (iii) delivery of propane by Superior Propane is prevented by a force majeure event including but not limited to the act of God, strike, flood, fire, inclement weather, embargo, insurrection, unavoidable accident, shortage of labour or material, government decree or any other cause reasonably beyond its control including, but not limited to, shortage of propane, then the Program shall immediately become null and void and of no effect as if the Program had never taken place. In the event of shortages resulting from a force majeure event, Superior Propane reserves the right to allocate supply as it deems necessary, in its sole discretion, amongst its customers, itself and its subsidiaries, or; if actions taken by the customer are determined by Superior Propane, in its sole discretion, to have been the cause of or substantially contributed to the propane run out situation. The Program has no pre-determined termination date and will continue until such time that Superior Propane may, without notice, terminate the Program.