Hassle-Free Propane Delivery
Save time with convenient Propane Refills
Get the most convenient propane delivery plan to fit your needs. Learn about automatic propane deliveries, how to order propane, and find the best propane refill options for your needs.


We're all seeking ways to simplify our lives so we can spend more time on meaningful activities. Managing your propane deliveries should be the least of your worries. Having a reliable propane supplier you can trust is important for ensuring that your propane refills are a worry-free experience.

So, how can you make the best choice for your propane needs, and how can you save the most when you order a propane tank refill? Let's explore the options and benefits of hassle-free propane home delivery with Superior to give you the most convenient and cost-effective propane experience.
Auto Delivery: Your Propane Deliveries Made Easy
We take the worry out of ordering propane with Automatic Delivery and our No-Run-Out-Guarantee† for homes. With auto delivery, you don't need to constantly monitor your propane tank levels. You can take advantage of receiving a continuous supply without lifting a finger. We know when it's time for a propane refill and we'll automatically schedule your delivery. If you have a SMART* Tank(™) sensor installed on your propane tank, your tank levels are automatically updated. If you don't have a sensor, our advanced delivery and routing system predicts when you need a refill based on your usage history and the temperature patterns in your area, so you don't need to place an order when your propane is already running low.

Automatic propane delivery is ideal for most customers, especially those who have variable usage, multiple annual deliveries, and who have unrestricted access to their property. You can view your estimated delivery date from your dashboard in mySUPERIOR™. We make your deliveries automatically, and typically when your tank levels are between 5% and 15%.
A solution to your propane concerns:


Budget Control: On the Auto Delivery plan, the deliveries are made at an optimal frequency which often results in fewer delivery-related fees and therefore lower costs. You could also avoid overtime emergency deliveries and related charges when you order propane, as we arrange your delivery before you run out of propane. Auto Delivery can also be combined with a Fixed Price Plan and Equal Payment Plan for even greater control over your budget.


No-Run-Out Guarantee†: With your SMART* Tank™ sensor when you are on Automatic Delivery plan, you are eligible for our No-Run-Out Guarantee† for residential customers. As we monitor your propane levels and set up optimal delivery dates, we guarantee that the delivery will reach you before you run out of propane.


View estimated delivery date: You'll be notified when a propane delivery is headed your way; and you can also check your estimated delivery date from the mySUPERIOR™ app or web portal, to know when you'll receive your propane refill.


Tank Protection: There's no risk of tank damage due to low levels of propane for extended periods, which can cause corrosion and condensation in the propane tank.


Convenience & Trust: Auto delivery eliminates the need for you to manually monitor your levels. Superior's Delivery team does that for you. We begin monitoring your consumption when your tank level reaches 30% and continue to monitor until we've scheduled and completed your delivery, ensuring that your propane is seamlessly replenished. You can always track your deliveries through the mySUPERIOR™ portal or mobile app.

Will-Call Delivery
This delivery plan applies to customers that have not enrolled in the convenience of Auto Delivery and have to manually place propane orders when needed. With Will Call, you're responsible for requesting a propane delivery when your tank level reaches 30%.

You can place your propane orders over the phone, or simplify the process and request deliveries online by signing up for a mySUPERIOR™ account, where you instantly receive your estimated delivery date when you request a propane delivery, and you can monitor your tank levels, view balances, pay bills, and much more.

This option is suited for customers who have controlled access to their property or use propane only as a back-up fuel
Ready, Set, Deliver - When to Expect Your Propane Deliveries

Whether you are on Auto Delivery or Will Call, we like to begin preparing your order when tank levels reach 30%. That's still a lot of propane, but it gives us enough time to secure your supply and add you to your driver's route. By the time your supply is on the truck and out for delivery, you can expect your levels to be between 5-15%, well before you run out. Just remember, in all seasons, make sure driveways and pathways to your propane equipment are clear so that your driver has safe access. Otherwise, your propane refill might be delayed.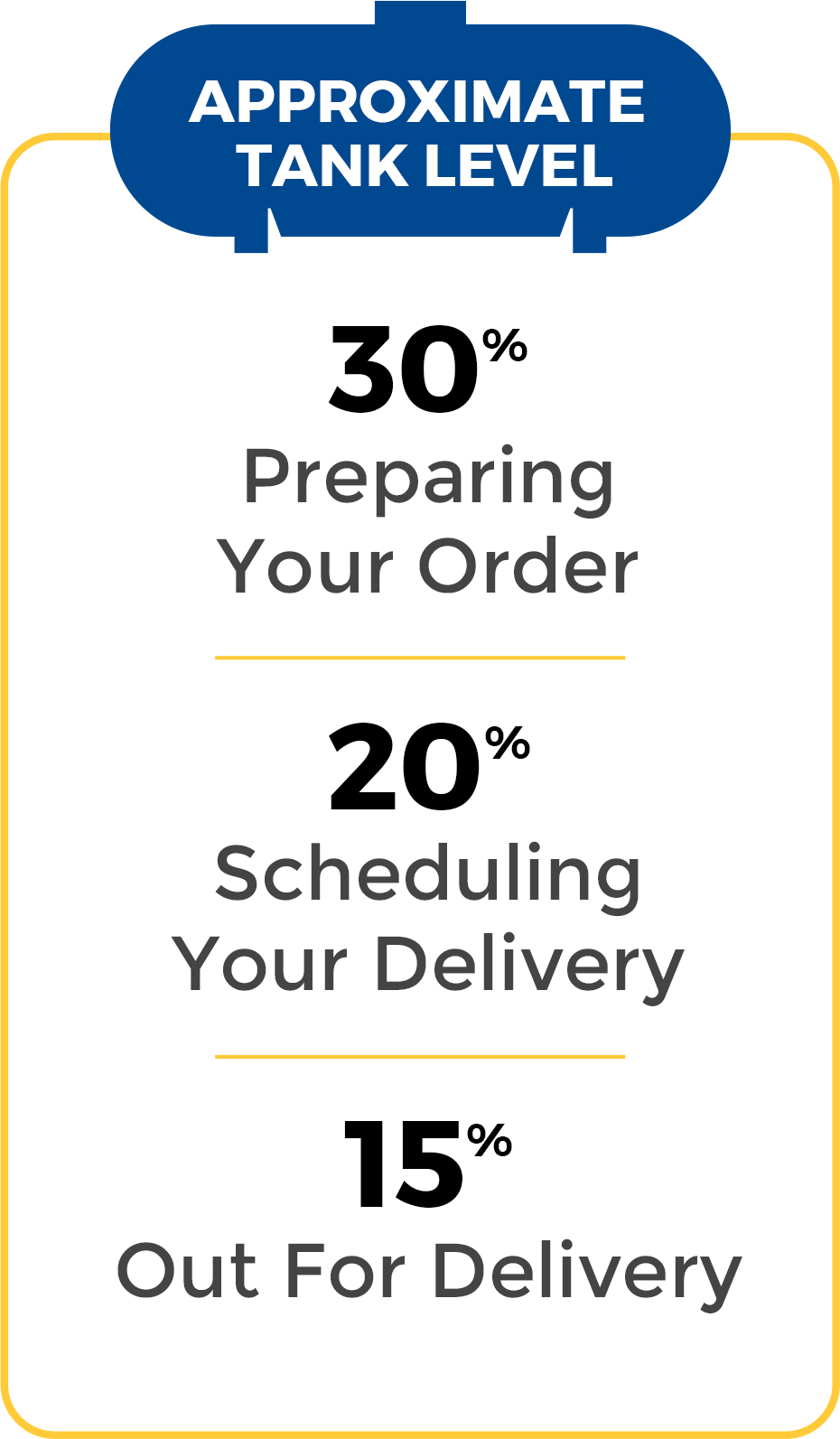 This timeline may vary slightly as we work behind the scenes to procure your propane from our suppliers, unload it from our supply point, transport it to our storage facility, and then transfer it onto the truck before it makes its way to you.
DID YOU KNOW?
Propane tanks are typically filled to a maximum of 70-80% to leave room for gas expansion.
| AUTO DELIVERY | WILL CALL DELIVERY |
| --- | --- |
| Delivery frequency is optimized to minimize fees (i.e. delivery, HAZMAT, etc.) | May not be cost-effective if you need urgent orders. |
| Customers who choose Auto Delivery can enjoy peace of mind with our No-Run-Out Guarantee, available for homes equipped with a SMART Tank sensor. | Propane refills may not be seamless if the order is placed too late (although we always do our best to deliver propane orders in a timely manner) |
| Convenience of having Superior's delivery team monitoring and scheduling for you | Manual propane levels tank monitoring |
How to Manage and Track Your Propane Deliveries
Tracking your Propane Refill
Using the mySUPERIOR™ app or portal, you can do more than just monitor your tank levels. Learn how to manage your propane refill whether you are on the Auto Delivery or Will Call plan:
If you are set up for Automatic Delivery, we will automatically schedule your propane refills. You can view your estimated delivery date from your dashboard in mySUPERIORTM app or web portal, as well as monitor your tank levels, receive and pay for invoices, see your payment history and set up auto payments.
If you are set up for Will Call Delivery, place your propane order on mySUPERIOR.ca or through the app when your tank level reaches 30%. With mySUPERIORTM, you can order and track deliveries, make payments, and more. You can also order propane by filling out this form or by calling us at 1-87SUPERIOR (1-877-873-7467).
How to Request a Propane Delivery:

If you're an Auto Delivery customer, you don't need to do anything! We handle it all for you. Once the delivery is scheduled, your estimated delivery date will be available in mySUPERIOR. Log back into mySUPERIOR after the delivery has been made so you can quickly view your balance and pay your bill.
For Will Call customers, easily order propane refills using mySUPERIOR™. In just a few clicks, you can top off your tank or set a custom amount. You'll see your estimated delivery date instantly. It's the easiest way to order and keep track of your propane. Register today.
Alternatively, you can give us a call and place the delivery order over the phone. Our team is always ready to assist you with your propane needs.
Propane Delivery Costs:


The delivery fee is a standard fee that considers costs to transport propane from its production point into our storage facility and finally to you. At Superior Propane, we're all about transparency so we separate the delivery fee, carbon tax, Hazardous Materials Handling Fee (HAZMAT fees), and fuel price per litre (PPL) on your delivery ticket and invoice, so there are no hidden fees.

Check this article and learn more about the propane delivery costs and help you understand everything that goes into your bill so you make the best choices for your energy needs.


How to read your delivery ticket / invoice:
At the time of your fuel delivery, the driver will leave behind your delivery ticket (shown below), which serves as your invoice. An electronic version will also be available in your mySUPERIOR™ account - it's the most convenient way to make payments and view payment history.


However you choose to get your propane refills, we thank you for trusting Superior Propane to reliably serve you.
Contact Us to Make the Switch
Switching to Superior Propane is easier than you think. Contact us today and we'll help you switch.
Complete the form and we will contact you shortly with the help or information you need.
OR
Call Us Now at
1-855-540-7295
No-Run-Out Program Terms and Conditions:



†All Superior Propane's SMART Tank bulk delivery residential customers enrolled in Superior Propane's automatic delivery program are eligible for The No-Run-Out Guarantee Program (the "Program") except for Customers (i) who rent only a single 420 lb. Cylinder or 123 USWG tank; (ii) with premises on water access or seasonal road access; and (iii) with tanks or cylinders that are attached to standby generators. If (i) the customer replaces Superior Propane's SMART Tank(s) with other equipment; (ii) the customer fails to pay for propane within the agreed upon payment period and the customer's account is no longer in good standing; (iii) delivery of propane by Superior Propane is prevented by a force majeure event including but not limited to the act of God, strike, flood, fire, inclement weather, embargo, insurrection, unavoidable accident, shortage of labour or material, government decree or any other cause reasonably beyond its control including, but not limited to, shortage of propane, then the Program shall immediately become null and void and of no effect as if the Program had never taken place. In the event of shortages resulting from a force majeure event, Superior Propane reserves the right to allocate supply as it deems necessary, in its sole discretion, amongst its customers, itself and its subsidiaries, or; if actions taken by the customer are determined by Superior Propane, in its sole discretion, to have been the cause of or substantially contributed to the propane run out situation. The Program has no pre-determined termination date and will continue until such time that Superior Propane may, without notice, terminate the Program.