WHAT IS AFFECTING MY PRICE?
Consumer prices are being affected by inflation
This isn't just a propane story, but a reality across the energy sector and many other industries
Consumers are experiencing higher costs for many fuels, including natural gas, furnace oil, diesel and gas at the pumps
Inflation has impacted all energy prices: gasoline, diesel and furnace oil went up 40-65%
The primary drivers affecting propane fuel prices are:
Increasing demand and strong exports
Increasing economic activity is helping drive global demand
Europe and Asia are procuring energy at all costs to mitigate further threats of energy shortages
Energy production hasn't caught up with demand
In the colder winter months comes higher demand and therefore typically higher costs
Click here to read more about the factors that are driving today's propane price.
Like many companies across various industries, Superior has been affected by significant inflationary cost increases.
We're all experiencing higher prices due to inflation (ex. higher grocery bills)
The price of diesel fuel needed to transport propane from our supply points to our customers has increased by more than 60%
The cost of propane tanks has almost doubled
The cost of tank and fleet inspection and maintenance is also rising as the industry faces higher costs for parts and labour
All businesses are making pricing adjustments to assist in the recovery of inflationary costs to serve customers
PRopane pricing your way
Superior Propane price plans are similar to mortgage rates, with fixed and variable pricing. The choice is yours when it comes to choosing the plan that suits your budget.
HOW FIXED PRICE IS DETERMINED
The fixed price for propane is based on a 12-month outlook, which considers economic conditions, supply, demand, and propane inventory levels in U.S. and Canada to help predict average monthly propane prices for the next 12 months.
THE ADVANTAGE OF LOCKING IN YOUR RATE
Similar to a fixed mortgage, a fixed price plan protects you from unpredictable price swings for one year. You can fix it and forget it. Otherwise, your price for propane will be determined in part by fluctuating market prices, similar to a variable rate mortgage.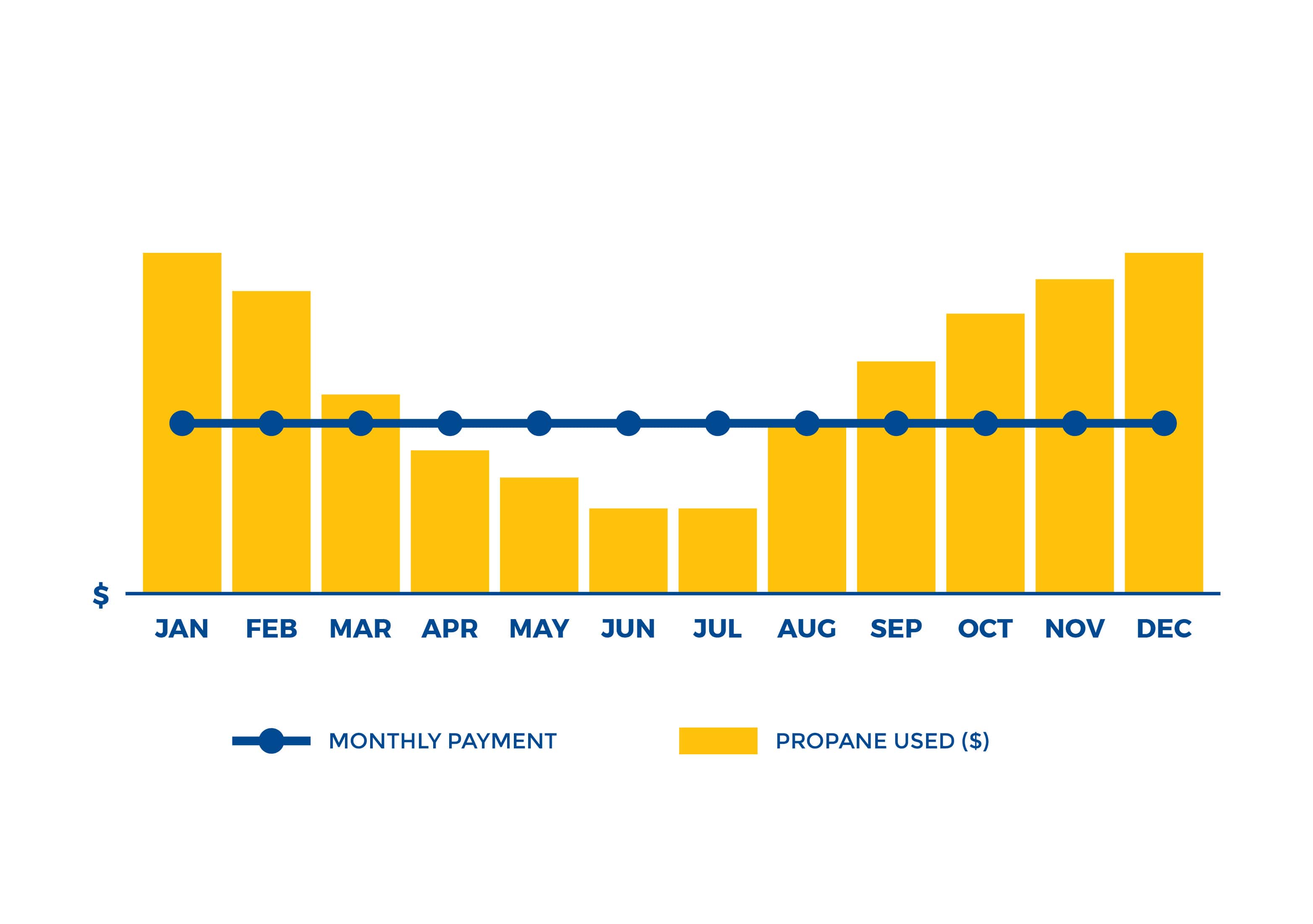 Want more control over your energy budget? Superior offers an Equal Payment Plan for homes and small businesses, which lets you pay the same amount every month regardless of fluctuations. If you use more or less propane throughout the year, the payment amount will be adjusted twice each year to reflect your actual consumption. This option can make household budgeting easier.
Looking to pay as you go? Our Standard Payment Plan lets you pay per delivery. Whether your delivery type is automatic or will call, you pay within 15 days of delivery.
PRICE SHOPPING FOR PROPANE
Some companies are prepared to sell at lower prices, sometimes below market, to obtain new business. To make sure you're comparing the right rates, find out if the rate quoted is introductory, seasonal, floating or fixed.
Also, not all companies offer the same level of emergency services, safety programs, and contingency supply plans during service disruptions.
We can reliably deliver propane in good times and bad because of our strong supply chain and ability to mobilize quickly to respond to changing demand.
During the rail strike of 2019, we were still making deliveries while other companies had run out of propane.
Whether it's unforeseen weather or critical disruptions to transportation, our tank sensor technology allows us to remotely monitor tank levels and prioritize critical deliveries.
Customers can also monitor their fuel levels through mySUPERIORTM online or our mobile app.
ANSWERS TO YOUR PROPANE PRICE QUESTIONS
When will propane prices go down?
Propane prices typically come down when supply and demand dynamics normalize across the energy sector.
Will Superior have enough supply to serve customers?
Yes, we have contingency plans in place, including purchasing and storing increased inventory so that we are equipped to minimize service interruptions. We have the capacity to store high volumes of propane so that we have more product on hand to be able to get through unforeseen critical events.
When is the best time to buy propane?
Keep your eye on energy prices and projections, and consider locking into Superior's Fixed Price Plan when we begin to see a downward trend in the market. Our budget plans also allow you to spread your cost evenly over 12 months.