EQUAL PAYMENT PLAN
The Equal Payment Plan provides you with predictable monthly billing for peace of mind. Pay the same amount every month regardless of fluctuations. If you use more or less propane throughout the year, the payment amount will be adjusted twice each year to reflect your actual consumption. This option can make budgeting more manageable.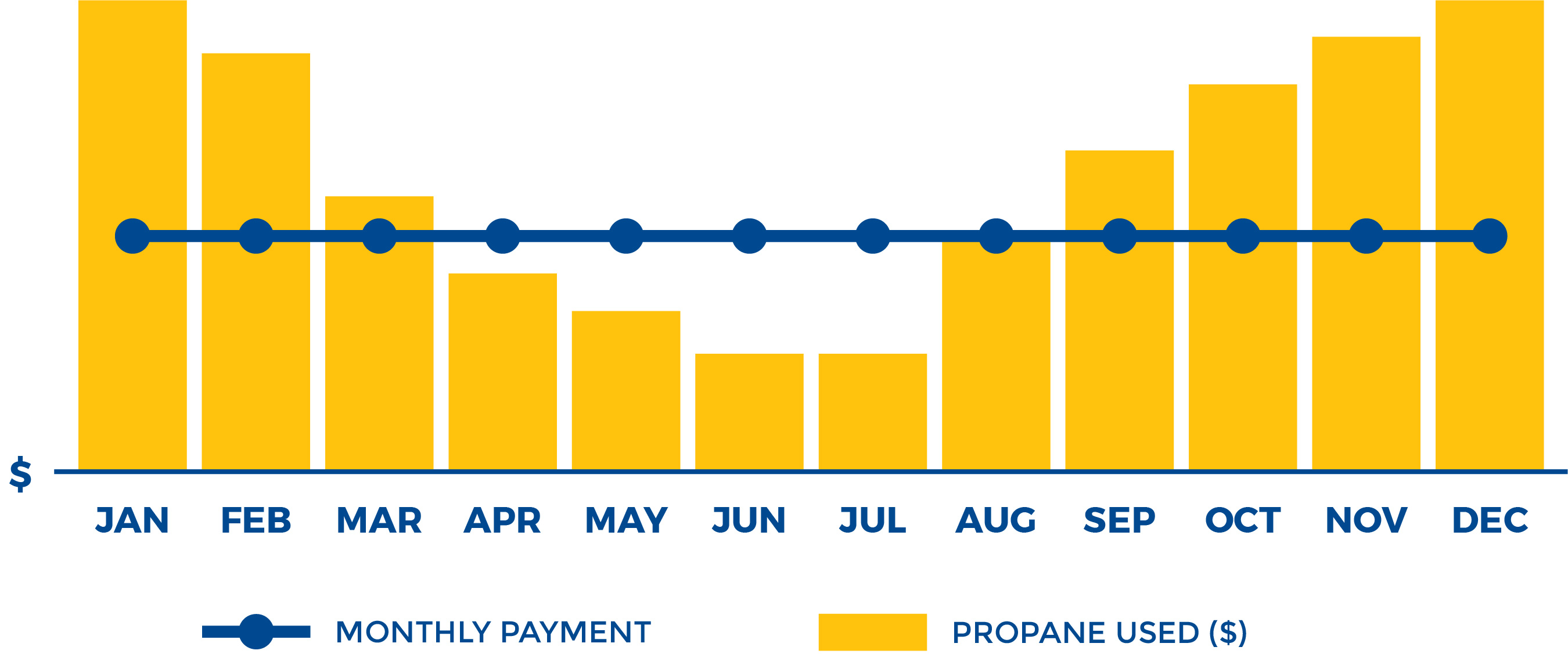 SIGN UP IN THREE EASY STEPS
Spread your propane costs evenly throughout the year so that you pay an equal amount each month.
Click ENROLL on the dashboard

Review your budget plan, monthly payment amount and then select your payment method.

Click SUBMIT

That's it! Your Equal Payment Plan will take effect the next month.
FREQUENTLY ASKED QUESTIONS
Who is eligible to sign up for an Equal Payment Plan?

Existing customers with an up-to-date account. Any balance owing must first be cleared to be able to enroll in EPP.
New customers with no previous consumption history

Your annual propane consumption is estimated and then divided evenly throughout the year.
You pay for your propane in equal amounts each month.
Payments may be adjusted twice each year to reflect changes in your consumption or price.
Payments are automatic so it's worry free! Banking or credit card details are required at time of enrollment.
View balances on mySUPERIOR.ca or through the mySUPERIORTM mobile app.

Set up Pre-Authorized Debit and never miss a payment. Your payments will be automatically debited from your personal chequing or savings account.

Or if you prefer to make payments with a credit card, we can automatically charge your balance to your Visa or MasterCard.

What is included in the plan? What is not included?

The cost of propane, storage tanks and equipment rental, delivery fees, and taxes are included in the Equal Payment Plan.

Any service work and administrative fees are not included and must be paid within 15 days following the service.
HOW TO MAKE PROPANE BILL PAYMENTS
There's an easier way to pay for your propane delivery or service. With mySUPERIOR™, you can view balances, make payments, update billing preferences, and more. Using mySUPERIOR for desktop? Watch the video for desktop.
"I like that you keep track of my tank and come to fill it when it's getting low. It's nice not to have to think about this. Your equal monthly payments make my budgeting easier."
"I like the use of technology. The tank monitor, the automatic fills, the updates to my phone, the online site and most importantly the ability to have equal monthly payments."
"I like the equal payment plan as there are no surprise bills in the winter. I can budget the payment and don't have worry about not being able to pay it in the winter months."
LAWRENCE, YELLOWKNIFE, NWT