Pre-Authorized Debit
Pre-Authorized Debit (PAD) allows you to have your propane payments automatically debited from your personal chequing or savings account.
How to share your banking information for pre-authorized payments
A cheque from your financial institution will contain important bank information such as the name of your financial institution and your bank branch address.
The digits at the bottom of the cheque contain the information we need in order to set up your pre-authorized payments, including:
Bank Name and Branch Address
Cheque Number
5-digit Transit Number
3-digit Financial Institution Number
Designation number (included by some institutions)
Bank Account Number (varies in length depending on financial institution, typically 7 digits or more)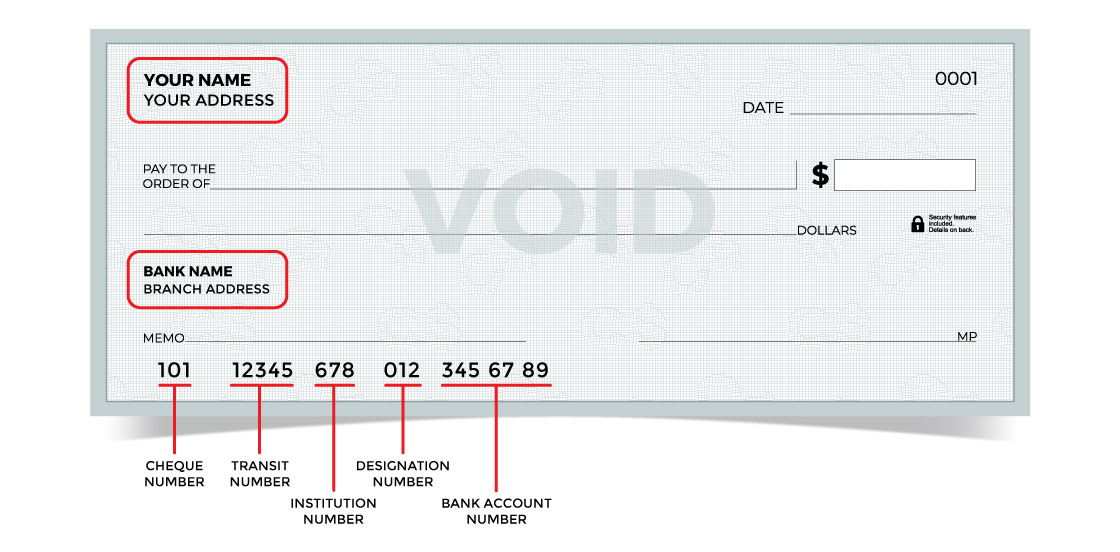 How to get a sample cheque from your financial institution
If you don't have a cheque, you can obtain a sample cheque from your financial institution. Most major banks allow you to view or download a sample cheque via online banking. Below are general steps to do so. These may vary slightly for each institution.
Sign in to your online banking account.
Select the account for which you would like a sample cheque.
There is typically an option where you can select "View Account Details" or "Manage Account".
There is typically an option to select "Void Cheque", Direct Deposit Info" or similar.
Print or view the direct deposit form which will contain all the information that would normally be on a cheque (i.e. transit number, institution number, and account number).
Sample cheques
For visual reference only, below are sample cheques from some of the major financial institutions in Canada.