Propane Prices
The price of propane can vary due to a number of factors. As Canada's largest propane supplier, Superior Propane uses our buying power to secure competitive prices and reliable propane supply for all of our customers.  Superior Propane makes it easy to manage your budgeting and offers two price plans, variable and fixed. To simplify your budgeting, we also offer an equal payment option to spread your propane costs over 12 months.
Propane Price Plans
Superior Propane price plans are similar to mortgage rates, with fixed and variable pricing. The choice is yours when it comes to choosing a plan that suits your budget. You can switch to Fixed Price Plan anytime, and you can change back to Variable Price Plan at the expiry of your Fixed Price term, usually once per year.
We protect you from unpredictable propane prices with our
Fixed Price Plan
. Lock your price in for a full year for the peace of mind that comes from knowing that, no matter how severe the winter, your propane rate is secure. Your price will be the same each time you get a delivery for the duration of your lock-in period. As Canada's largest propane provider, Superior Propane has the buying power to secure competitive rates on your behalf.
Variable Propane Price Plan
Variable pricing fluctuates based on supply and demand, and is typically higher in the fall and winter weather. So, your propane price varies as the cost of propane changes. Other factors such as agricultural demands, exports, pipeline traffic and more can also affect prices. As one of the largest propane distributors, Superior is able to secure high-volume pricing throughout the year, as well as offer a more reliable supply.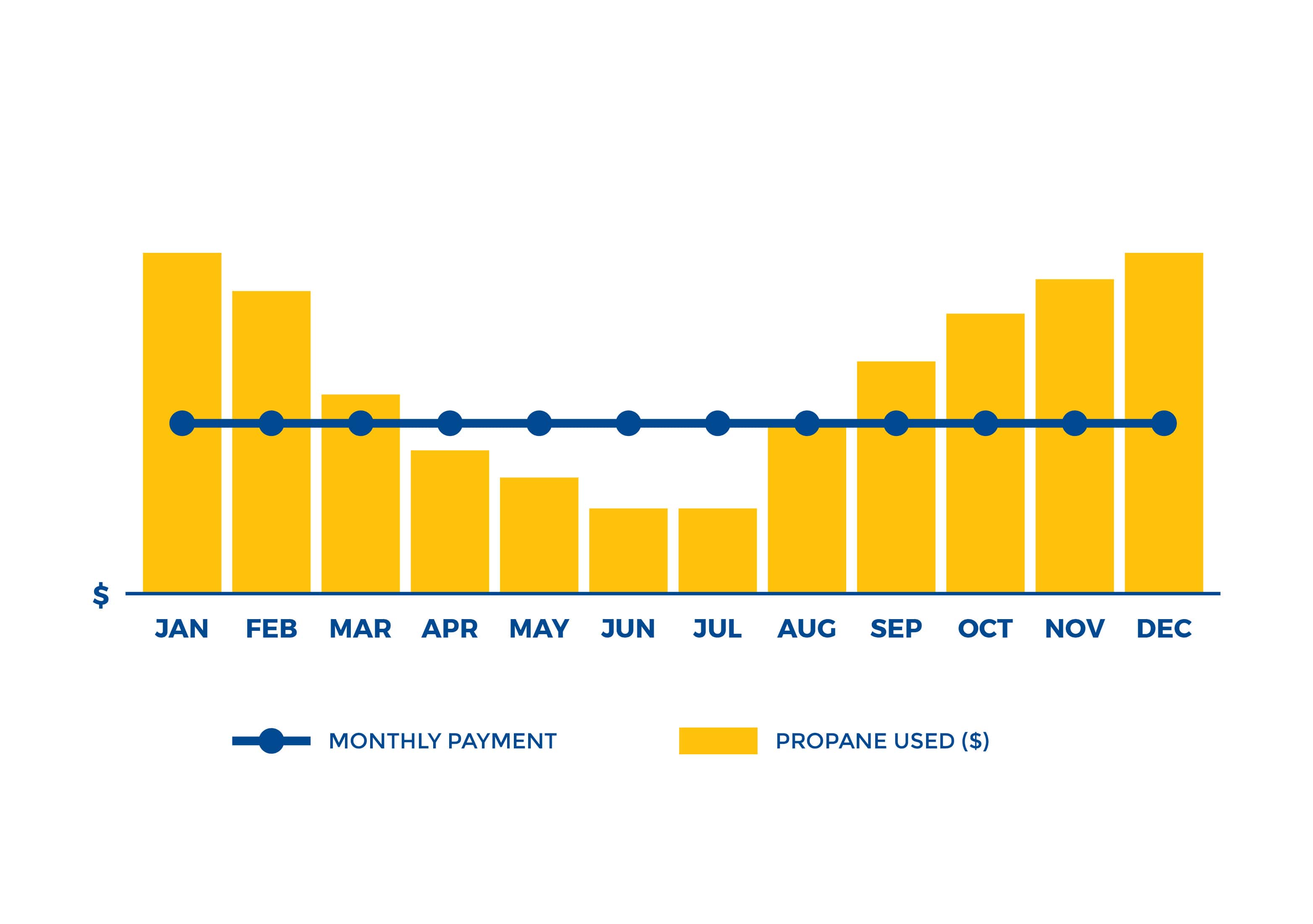 Want more control over your energy budget? Superior offers an Equal Payment Plan for homes and small businesses, which lets you pay the same amount every month regardless of fluctuations. If you use more or less propane throughout the year, the payment amount may be adjusted to reflect your actual consumption and you will be notified in advance.
This option can make household budgeting easier.
Looking to pay as you go? Our Standard Payment Plan lets you pay per delivery. Whether your delivery type is automatic or will call, you pay within 15 days of delivery.
Payment Options
Choose from convenient payment options including automatic bank withdrawals, pre-authorized credit card payments, online banking, toll-free call-in payments and payments by cheque. Plus mySUPERIORTM is a new way to pay! Our flexible payment options let you determine what works best for your budget.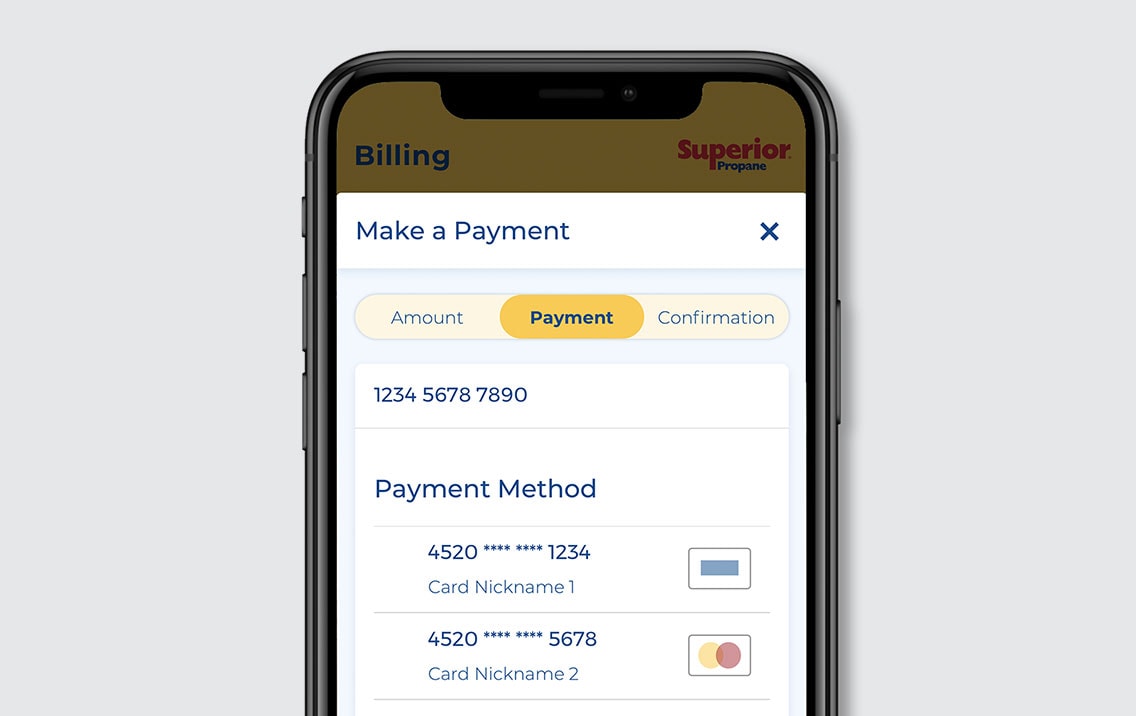 DIGITAL SOLUTIONS FOR PROPANE DELIVERY
CUSTOMER-FOCUSED & EFFICIENT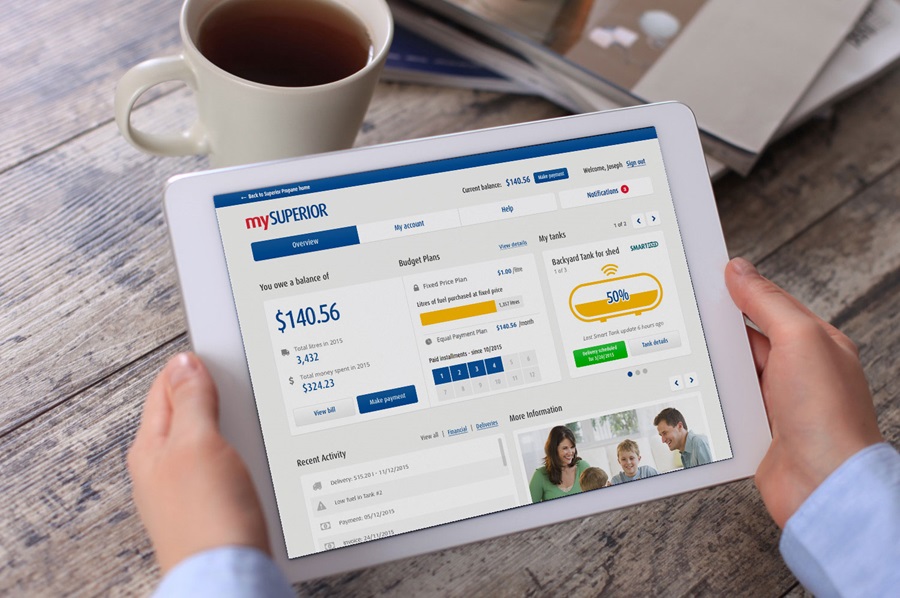 mySUPERIOR™ puts your propane account at your fingertips. With mySUPERIOR you can schedule a delivery, view SMART* TankTM levels, make payments and more online. Connect to your propane even faster with our mobile app available on both Google Play and the App Store.
SMART* Tank™ Wireless Monitoring
Managing your propane has never been easier. Our remote tank monitoring technology called SMART* Tank™ ensures you always have the fuel you need. SMART* Tank™ detects when it's almost time for an LPG refill and notifies Superior Propane to automatically schedule the propane delivery. You will also receive text or email notifications with up-to-date propane levels and can view readings, delivery details, and historic usage online at mySUPERIOR.ca.
PROPANE PRICES EXPLAINED
Since propane prices fluctuate, one of the most common questions we receive is how propane prices are determined for each unique customer. What you end up paying to get your propane tank filled will vary based on factors influencing supply and demand, plus a few more that depend on your unique situation. Learn more about all the factors that influence your propane cost and fees.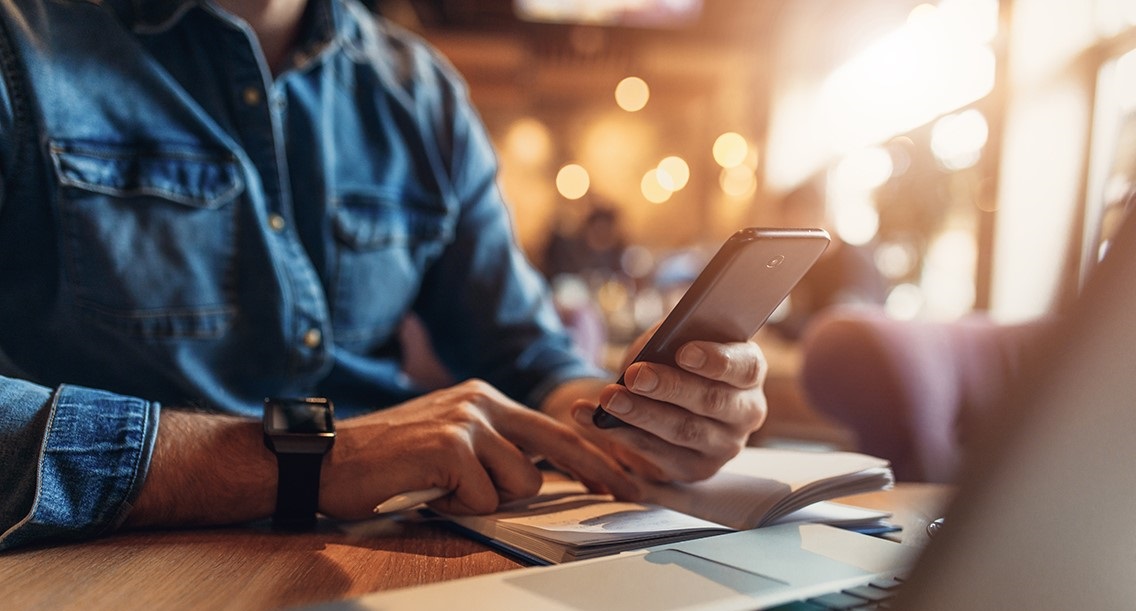 At Superior Propane, we are proud to serve customers in every province across Canada, from East to West Coast. We strive to offer competitive propane prices in each province by offering plans that satisfy all customer needs.

Take advantage of federal and provincial energy rebates and incentives that you can benefit from and get the best propane cost in Ontario, Québec, New Brunswick, Newfoundland and Labrador, Prince Edward Island, Nova Scotia, Manitoba, Nunavut, Saskatchewan, Alberta, Yukon, Northwest Territories and British Columbia.