propane tank rental
Propane tanks are becoming an increasingly popular economical choice for everything from home heating powering appliances, power generation for home and businesses and much more. When switching to propane, consider the advantages and disadvantages of buying or renting a propane tank.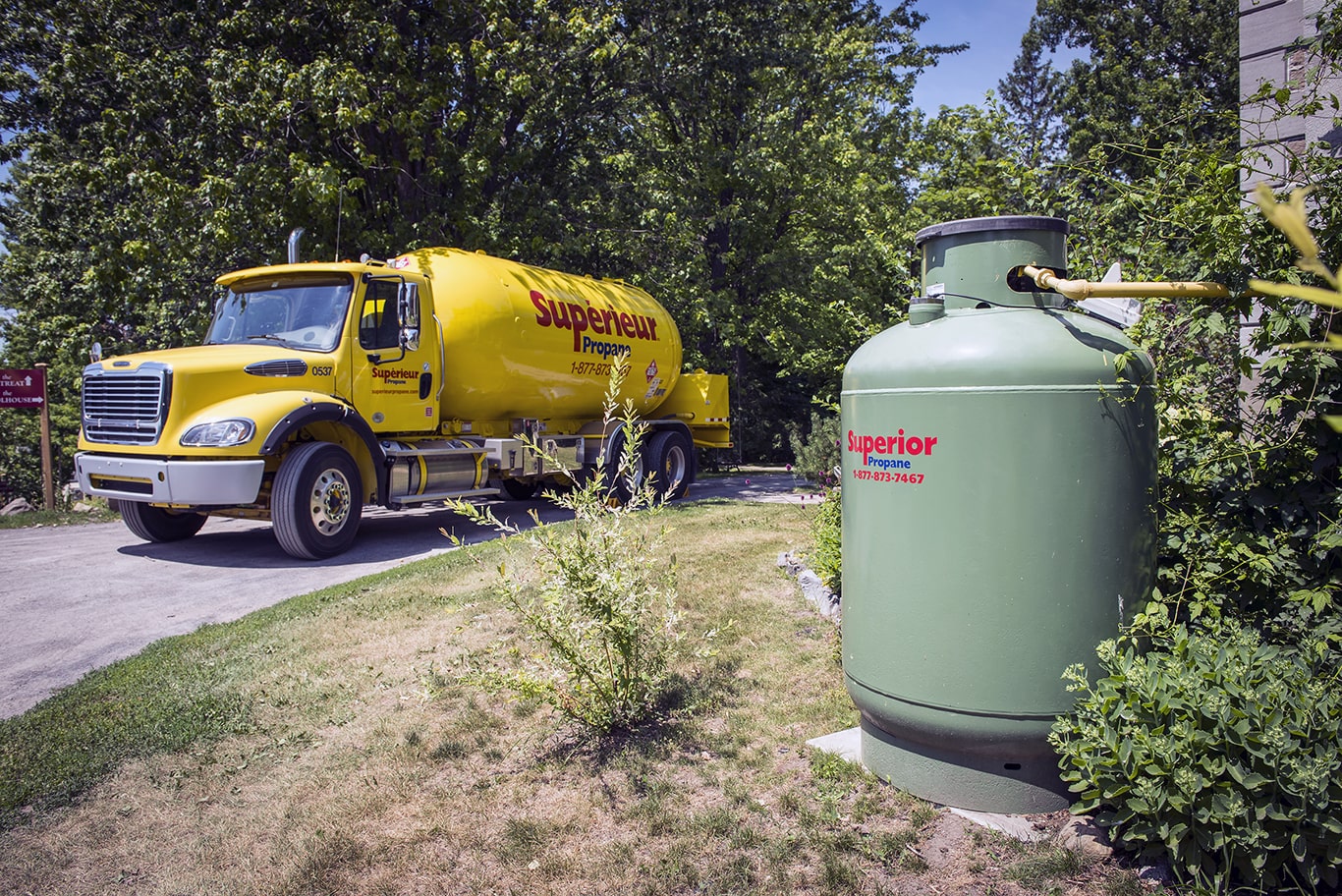 renting a propane tank with superior
As Canada's leading propane company, we know that reliability, convenience, and customer service are important to you. Not only do we deliver clean, safe propane, but as a Superior customer, you also have access to automated and self-serve tools to give you more control over your propane account. Here's what you can expect.
renting vs. owning a propane tank
Acquiring a propane gas tank often comes with extra expenses for maintenance, regular inspections, repairs, and more. Additionally, the bulk of the expense needs to be done up-front.  However, a propane tank rental with Superior Propane provides customers with comprehensive propane service for both residential and commercial use. In doing so, we take on the responsibilities, enabling you to have a high-quality propane tank at a competitive price, along with peace of mind.
superior propane tank rental
We provide complimentary tank check-ups with every propane delivery.
If any parts need to be replaced, we handle it at no additional cost to you.
We ensure your tank is always compliant with the latest safety regulations, putting your safety first.
We maintain your tank in top condition, preventing potential issues before they occur.
You have the ease and convenience of monitoring your propane levels remotely through our SMART* Tank™ sensors and the mySUPERIOR™ app or website at no additional charge.
Involves significant upfront costs for the purchase.
High potential cost over the tank's lifespan due to necessary repairs and upgrades.
Not all propane suppliers will service propane tanks that they don't own. And if they do provide refills, they likely will not do inspections or maintenance.
You will need to monitor your propane levels manually and schedule refills as necessary.
Insurance companies may not provide coverage for your tank due to potential liability if it does not comply with safety and other provincial regulations.
which propane tank size is right for you?
Whatever you need propane for, Superior can provide a tank size that suits your needs. The following are sizes and specifications for some of our most commonly used propane tanks and cylinders for your home or business.

Height 4'-4 ½" | Diameter 30" | LPG Capacity 375 litres* (Per Cylinder)

Ideal Use: If you are using propane at home for something other than primary home heating, this is the tank for you. Popular uses include water heaters, fireplaces, pool heaters, and auxiliary heaters.

Distance/Position: Cylinders can be placed against a building, and more than one cylinder can be connected together for higher volume use when a 500 gallon tank is not feasible. A maximum of four cylinders can be placed together. A typical residential application would require two to three cylinders.


Height 3'-10" | Length 9'-10" | Diameter 38" | LPG Capacity 1514 litres*

Ideal Use: If you are heating your home with propane, this is the popular choice. Commonly used for residential and small commercial heating applications, or where a higher BTU load is required for multiple uses.

Distance/Position: Must be installed at least 10 feet (3 metres) from any building or property line.

1,000-Gallon Propane Tank
1,000-Gallon Tank
Height 4'-4" | Length 15'-11" | Diameter 41" | LPG Capacity 3028 litres*

Ideal Use: A 1,000-gallon tank is usually for commercial or agricultural operations with high volume usage and very high BTU loads.

Distance/Position: Must be installed at least 10 feet (3 metres) from any building and at least 10 feet from any property line.


* Dimensions and capacities are approximate and may vary slightly.


If you have a large commercial operation and need a greater supply of propane, we have tanks ranging from 2,000 to 60,000 gallons. With over six decades of experience, we'll ensure that you get the best storage solution for your energy requirements. Learn more about commercial propane tanks.
If you are using portable propane cylinders for forklifts or on a construction site, we can deliver portable propane cylinders to you. We consider the number of vehicles in your fleet, shift schedules, and hours worked to customize a delivery schedule that meets your needs. Plus, we can automate the process, so propane is there when you need it, worry-free.
See The Benefits of SMART* Tank™ for Yourself
From installation to instant notifications on your phone, watch how SMART* Tank™ technology brings unmatched control and peace of mind to your home or business.
GET THE SUPERIOR ADVANTAGE
Your propane, stress-free. We take the worry out of ordering propane with SMART* Tank enabled auto delivery. Plus, you'll love the ease and convenience of mySUPERIOR.ca – your website for checking tank levels and managing your account anywhere, anytime.
We've been fueling homes and businesses across Canada since 1951. Our employees understand propane and you can count on our experience. Take comfort knowing you're in good hands.
You can always depend on us. Enjoy the comforts of your home knowing Superior will make sure you have propane when you need it. Our drivers and technicians keep Canadians warm in more than 10,000 communities, coast to coast.
CONNECT TO YOUR PROPANE EVEN FASTER
"Right from the initial phone call to become a new customer, to the installation of the tank, the new technology of the app and the auto generated fill requests—Superior has provided great service."
"I always receive very efficient and courteous service from the rep when I call. I also like the online service [mySUPERIOR] to track and pay my bills."
"As a long-term customer, I enjoy the efficiency of the service and the user-friendly website, mySUPERIOR. What can I say? I am extremely satisfied. Thank you, Superior."
PROPANE SAFETY DATA SHEET
For your safety, know how to use, store, handle and transport propane.