AUTOMATIC PROPANE DELIVERY
Automatic propane tank refills let you get on with your business without having to remember to check your propane tank levels. Our advanced delivery and routing system predicts when you need a fill based on your usage history and the temperature patterns in your area. This means you won't have to search for "propane refill near me" when you're running low. We know when it's time for a fill and automatically schedule your delivery. Ideal for: Most customers, especially those who have variable usage, multiple annual deliveries, and who have unrestricted access to their property.
CUSTOMER-FOCUSED DIGITAL SOLUTIONS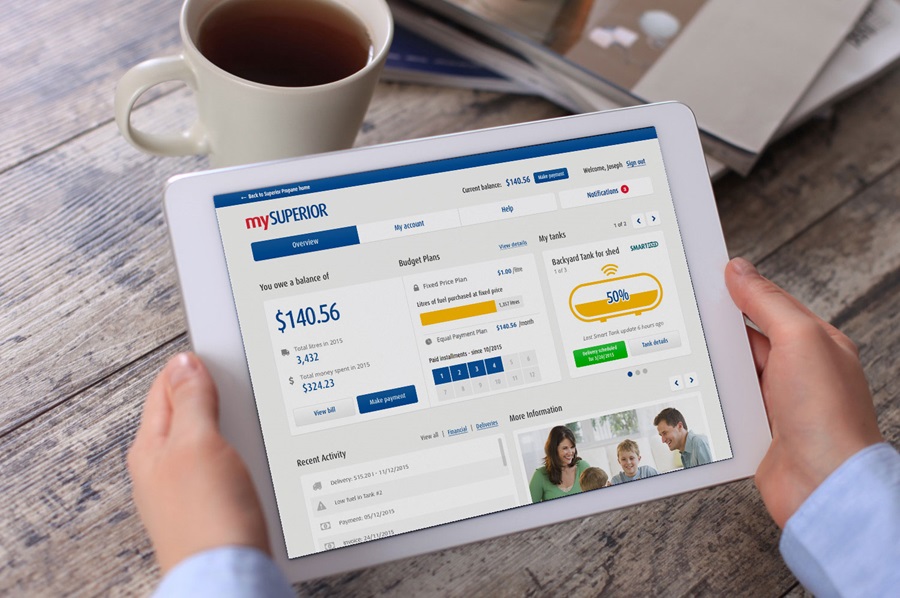 mySUPERIOR™ puts your propane account at your fingertips. With mySUPERIOR you can schedule a delivery, view SMART* TankTM levels, make payments and more online. Connect to your propane even faster with our mobile app available on both Google Play and the App Store.
SMART* Tank™ Wireless Monitoring
Managing your propane has never been easier. Our remote tank monitoring technology called SMART* Tank™ ensures you always have the fuel you need. SMART* Tank™ detects when it's almost time for an LPG refill and notifies Superior Propane to automatically schedule the propane delivery. You will also receive text or email notifications with up-to-date propane levels and can view readings, delivery details, and historic usage online at mySUPERIOR.ca.
Periodic delivery means that we fill your propane tank on a scheduled basis. If you use propane only for non-weather dependent activities like water heat, cooking, or forklifts we can preset your delivery schedule, so you always know when your propane is coming.
Ideal for: Customers who don't use very much propane, like seasonal businesses or those businesses using propane forklift where fuel consumption is predictable and consistent.
The Will Call Delivery Program is simple. It means that you contact us and schedule a delivery. It's a good option if you don't have a consistent or predictable need for propane, are using propane for a backup generator, or if you need to unlock a gate to receive deliveries. You are responsible for calling Superior when your tank level reaches 30%. Simplify the process and request deliveries online by signing up for a mySUPERIOR™ account.
Ideal for: Customers who have controlled access to their property or use a backup generator. For the ultimate in peace of mind, consider SMART Tank monitoring with Auto Delivery instead.
"Very satisfied with the service. I get an email notification of the tank level, automatic refill when required and payments are automatic."