AUTOMATIC PROPANE DELIVERY - EASY & CONVENIENT
We're all seeking ways to simplify our lives so we can spend more time on meaningful activities. Managing your propane deliveries should be the least of your worries. Having a reliable propane supplier you can trust is important for ensuring that your propane refills are a worry-free experience. Automatic propane tank refills let you get on with your business without having to remember to check your propane tank levels. Our advanced delivery and routing system predicts when you need a fill based on your usage history and the temperature patterns in your area. We know when it's time for a fill and automatically schedule your delivery. 
DIGITAL SOLUTIONS FOR PROPANE DELIVERY
CUSTOMER-FOCUSED & EFFICIENT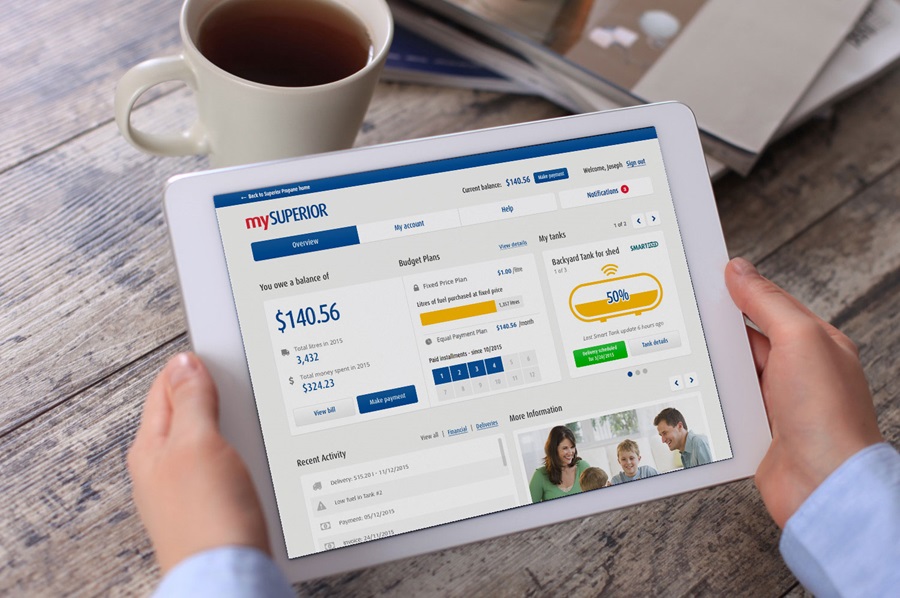 mySUPERIOR™ puts your propane account at your fingertips. With mySUPERIOR you can schedule a delivery, view SMART* TankTM levels, make payments and more online. Connect to your propane even faster with our mobile app available on both Google Play and the App Store.
SMART* Tank™ Wireless Monitoring
Managing your propane has never been easier. Our remote tank monitoring technology called SMART* Tank™ ensures you always have the fuel you need. SMART* Tank™ detects when it's almost time for an LPG refill and notifies Superior Propane to automatically schedule the propane delivery. You will also receive text or email notifications with up-to-date propane levels and can view readings, delivery details, and historic usage online at mySUPERIOR.ca.
EXPLORE PROPANE DELIVERY OPTIONS
Periodic delivery means that we fill your propane tank on a scheduled basis. If you use propane only for non-weather dependent activities like water heat, cooking, or forklifts we can preset your delivery schedule, so you always know when your propane is coming.

With Automatic Delivery and our No-Run-Out-Guarantee† for homes, we take the worry out of ordering propane. With auto delivery, you don't need to constantly monitor your propane tank levels.
Ideal for: Customers who don't use very much propane, like seasonal businesses or those businesses using propane forklift where fuel consumption is predictable and consistent.
The Will Call Delivery Program is simple. It means that you contact us and schedule a delivery. It's a good option if you don't have a consistent or predictable need for propane, are using propane for a backup generator, or if you need to unlock a gate to receive deliveries. You are responsible for calling Superior when your tank level reaches 30%. Simplify the process and request deliveries online by signing up for a mySUPERIOR™ account.
Ideal for: Customers who have controlled access to their property or use a backup generator. For the ultimate in peace of mind, consider SMART Tank monitoring with Auto Delivery instead.
SUPERIOR PROPANE HOME DELIVERY
RELIABLE & HASSLE-FREE
At Superior Propane, we understand that every home and business has unique energy needs. Our delivery options are designed not just to provide propane, but to adapt seamlessly to your lifestyle and preferences. Whether you're a homeowner who values consistency or a business that requires flexibility, our delivery plans cater to a spectrum of requirements. From scheduled deliveries to on-demand refills, we've got you covered. Life is unpredictable, and so are energy needs. That's why our services are built to adjust. Whether it's a sudden spike in usage or a planned event, trust Superior Propane to synchronize with your pace. It's not just about propane; it's about the promise of reliability, efficiency, and unparalleled customer service. Our team is dedicated to ensuring that every interaction, every delivery, and every service call reflects our commitment to excellence. Dive into a world where propane delivery aligns with your expectations, where services mold to fit your requirements. Ready to experience the Superior difference? Explore more on the mySUPERIOR appTM or contact us today.

"Very satisfied with the service. I get an email notification of the tank level, automatic refill when required and payments are automatic."
Contact Us to Make the Switch
Switching to Superior Propane is easier than you think. Contact us today and we'll help you switch.
Complete the form and we will contact you shortly with the help or information you need.
OR
Call Us Now at
1-855-540-7295
No-Run-Out Program Terms and Conditions:



†All Superior Propane's SMART Tank bulk delivery residential customers enrolled in Superior Propane's automatic delivery program are eligible for The No-Run-Out Guarantee Program (the "Program") except for Customers (i) who rent only a single 420 lb. Cylinder or 123 USWG tank; (ii) with premises on water access or seasonal road access; and (iii) with tanks or cylinders that are attached to standby generators. If (i) the customer replaces Superior Propane's SMART Tank(s) with other equipment; (ii) the customer fails to pay for propane within the agreed upon payment period and the customer's account is no longer in good standing; (iii) delivery of propane by Superior Propane is prevented by a force majeure event including but not limited to the act of God, strike, flood, fire, inclement weather, embargo, insurrection, unavoidable accident, shortage of labour or material, government decree or any other cause reasonably beyond its control including, but not limited to, shortage of propane, then the Program shall immediately become null and void and of no effect as if the Program had never taken place. In the event of shortages resulting from a force majeure event, Superior Propane reserves the right to allocate supply as it deems necessary, in its sole discretion, amongst its customers, itself and its subsidiaries, or; if actions taken by the customer are determined by Superior Propane, in its sole discretion, to have been the cause of or substantially contributed to the propane run out situation. The Program has no pre-determined termination date and will continue until such time that Superior Propane may, without notice, terminate the Program.