Superior Propane Payment Options
Our commitment to customer service means providing bill payment options that work for you. Choose the one that best suits your needs for hassle-free payments.
Payments Made Simple
Life's busy. We understand that. That's why you can take manually paying for your propane bill off your to-do list. Experience hassle-free payments by setting up automated credit card payments in your mySUPERIORTM account. Your payment is automatically processed, and if you need to refer to your bill, you can quickly view it from your mySUPERIORTM account too.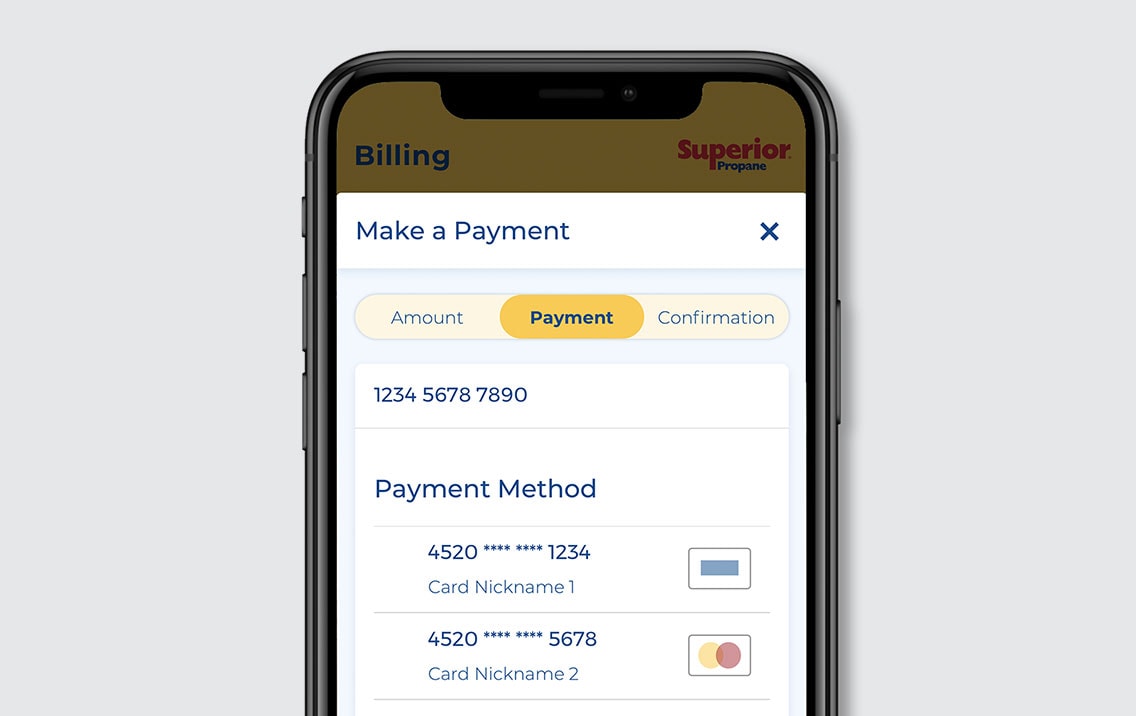 "Superior's new phone app and website gives us the tools to manage everything and if needed, the staff are eager to help on the phone."
We can automatically charge your account balance to your Visa or MasterCard, after your delivery or service. Plus, if your credit card is linked to a rewards program, you earn extra points!
Through Your Bank Account
Enjoy the convenience of pre-authorized payments from your bank account. Your account balance is automatically withdrawn after your delivery or service - no bank visit, no signing into an online account, no worries.
If you prefer doing your banking in person, no problem. Your account balance can be paid at most Canadian financial institutions just by bringing in the payment stub from your most recent invoice/delivery ticket.
Using your account number, you can add Superior Propane to your payee list through your financial institution's secure online banking system. You take care of the payment online - it's that easy.
Direct Payment to Superior Propane
Let our customer service team process your payment quickly. Call us at 1-87SUPERIOR with your credit card number and your Superior Propane account number and we'll process your payment right away.
If paying by mail works for you, it works for us too. Simply mail us a cheque, along with your remittance stub, addressed to:
Superior Propane
P.O. Box 4568
STN A
Toronto, ON M5W 0J5